By Don Potter, Savillex Executive Adviser
SEMICON West 2023 – The Premier Microelectronics Event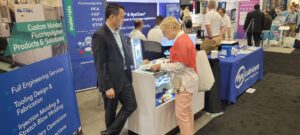 SEMICON West (July 11-13, 2023, Moscone Center, San Francisco, CA) is the premier event for the microelectronics industry. A strong technical program, separate SEMI standards meetings, and an exhibition spanning both halls at the Moscone Center makes the show a must attend event for the industry. From its 1990's heyday, the exhibition decreased in size but in recent years has been growing strongly again as worldwide demand for semiconductors has accelerated.
Savillex will be exhibiting (booth 5881) where we will be featuring our Custom Services solutions.
Custom Services for the Semiconductor Industry
Savillex's Custom Services business produces custom molded products (mostly fluoropolymers) to the customer's specific design. Typically, the customer brings us a part design that they want to have molded. We work with them, modifying the part where necessary to make it moldable, then design and build the tooling, and finally manufacture production parts with that tooling.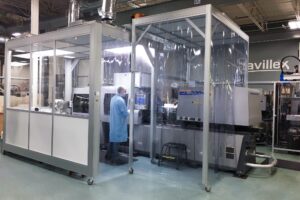 The semiconductor industry has traditionally been a large user of Savillex Custom Services. While PTFE is widely used in the industry due to its inertness and low trace metals content –many companies have recognized the benefits of switching to molded PFA over machined PTFE components. Lower part cost and lower trace metals content have been the main drivers for the switch to molded PFA.
Molding fluoropolymers is challenging due to their very high melting points and generation of corrosive fluorine gas during molding, but Savillex has built up a great deal of expertise in the almost 50 years we have been in business. What further sets us apart is our ability to mold fluoropolymers without adding trace metals contamination. Our injection molding presses feature HEPA filtered enclosures that protect the molding operation from environmental contamination, and our materials knowhow enables us to design tools that are protected from corrosion, keeping parts ultraclean.
Interested in taking the next step with our Custom Services capabilities, or have a unique product or challenge in mind? Drop our team a line or check out our full suite of Custom Services for more details – or stop by and see us at Booth 5881 at SEMICON West.