By Drew Carlson Applications Development Manager – Life Sciences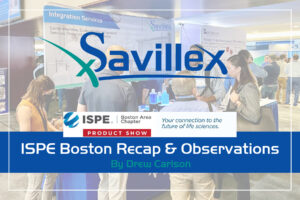 The Boston Area Chapter ISPE vendor show at Gillette Stadium is a yearly highlight on the tradeshow calendar. Because of its location and local presence, it is historically one of the calendar year's best networking and knowledge-sharing events. This year was the 30th anniversary of the show, and it did not disappoint!
Boston has arguably the most substantial presence of Bioproduction, Biotech, and Cell and Gene Therapy in the United States. It was no coincidence that attendees from many of the largest companies in the industry were present and looking for the next technology or advantage they could implement into their processes. Traffic at the show was back to record levels following the pandemic, and energy was infectious. Attendees were eager to engage and learn from the vendors at the show, which was exciting to be a part of after the momentum was starting to get rolling again last year.
Savillex also heard a common theme about post-pandemic growth stabilizing. The incredibly rapid growth the industry experienced during the pandemic was unsustainable, but it's still difficult to anticipate where and when it would come back to earth. In addition, supply chain issues are still present, especially in the most common consumable products. As a result, Savillex lead times continue to be industry-leading in the 6–10-week range.
All in all, it was a very successful day at the ISPE Boston Area Chapter show. Our Life Sciences team here at Savillex is available and happy to help. We provide clean, innovative material handling solutions that are trusted for the most challenging life science and technology applications.
Savillex Support
Savillex's presence at both local tradeshows and industry/international tradeshows proves our commitment to learning and servicing the Biopharma and CGT communities. Please reach out directly if you have something to discuss further!
Savillex can help alleviate your extreme process parameter product needs and supply you with single-use bottles, vials, jars, assemblies, or a custom solution, manufactured in Eden Prairie, MN. In addition, we have a brand new 1,300 square ft cleanroom dedicated to single-use integration services, including tubing sets and assemblies. See our website for more information, or contact us at [email protected]. We would be happy to discuss how we can supply high-quality products to meet your exact requirements.
We look forward to seeing you at upcoming industry shows such as Meeting on the Mesa, Bioproduction, Phacilitate, Interphex, and others. Check our website for more information about where Savillex products can be seen, and speak to Fluoropolymer product solutions experts for CGT and Bioprocessing, like our line of Purillex® Bottles, Vials, and Jars.