By Eric Isberg – VP of Life Sciences
Savillex Life Sciences Success: 10 Years in the Making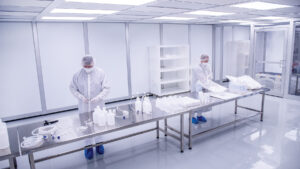 You've probably heard the old cliche about "an overnight success…years in the making." For our Purillex® brand of life science products, and the incredible growth surge we experienced in 2021, it has felt like overnight success…but 10 years in the making! 
This past year, our life science revenue increased by nearly 400%. That momentum shows no signs of stopping, either as we continue to expand both our technology offers and team to meet increasing demand.
We launched our Purillex brand of life science products about 10 years ago, starting with bottles. And what we set out to do was utilize the many benefits of fluoropolymer materials – including cleanliness, purity and chemical inertness – in manufacturing a new generation of bulk drug substance containers. 
In the years since our initial launch, Savillex has expanded into areas like lipids supply for mRNA vaccines, containers for regenerative medicine applications and integration services for cleanroom assembly, tubing manifold sterilization and other single-use products. 
As Vice President of Life Sciences at Savillex, one of the things I'm personally proud of is seeing our Purillex containers become a go-to solution for many different use cases. Purillex containers are an excellent fit for anyone needing extremely low extractables, compatibility with any process chemicals, and the convenience that comes with ready-to-use, clean and pre-sterilized products. 
2021 A Major Turning Point for the Purillex® Life Sciences Business
Savillex brought several new and exciting products to market in 2021, such as our gamma stable ETFE bottles and vials. We also built a state-of-the-art cleanroom and launched our integration services – all while steadily growing our customer base.  
I believe it's our agility and attention to the smallest details that enables us to manufacture, procure, assemble, package, and sterilize a broad range of highly customized products tailored to each customers' unique needs. 
Growing Our Product Lineup and Team
Expanding the Purillex brand will mean introducing further new container types and sizes in 2022. This includes jars, tubes, cryotubes, extruded tubing and other labware types to support all aspects of product development and manufacturing. 
Our single-use, Purillex fluoropolymer products are also available clean and pre-sterilized for the ultimate streamlined experience. From improving your operational flexibility and reducing the risk of contamination, to lowering your costs, you get the quality products you expect from Savillex, with convenience that's unmatched in the industry. 
From a people perspective, the Savillex team is continuing to expand with the addition of several key, strategic life science hires. 
All in all – this is a very exciting time of growth for us. And how we'll sustain this growth is by being more to our customers than just another supplier. We know that relationships matter – and our Savillex experts act as an extension of our customers' teams, helping to solve even the most challenging problems. 
Here's to further growth, innovation and partnerships as we move through 2022! 
To learn more about Savillex, our products and all the latest company developments, check out our blog, follow us on LinkedIn, visit our website or give us a call at  952.935.4100.