By Drew Carlson Applications Development Manager – Life Sciences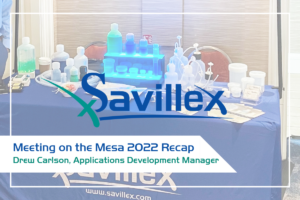 Organized by the Alliance for Regenerative Medicine (ARM), the Cell & Gene Meeting on the Mesa in Carlsbad, CA, is the sector's major annual conference bringing together senior executives and top decision-makers in the industry to advance cutting-edge research into cures. As another hotbed of the CGT industry, the Carlsbad/San Diego presence brings in many local industry experts and technical talent. In addition, it is an ideal destination for the out of state attendees.
The attendance at the show browsing the exhibition booths was more robust than anticipated. The show focuses primarily on expert-led panels, exclusive networking opportunities, and company presentations from the space's leading public and private companies. Still, the conversation at the Savillex booth was busy with technical representatives for the companies. We had discussions ranging from LN2 storage, Microcarrier storage, to L&E profile of Spinner Flasks, to Leukopak durability, all the way to pressure-rated storage applications for cell therapies developed in outer space!
The ability to serve this sector comes with different challenges than big Biopharma. Though big Biopharma is ever present with frequent collaborations, acquisitions, and mergers, typical CGT processes are lower volume, highly customized, and extremely high value. Savillex serves this industry well because of our robust premium product offerings, agility to meet our customers' needs, vertically integrating subject matter expertise, and available capacity. Savillex lead times remain industry-leading at the 6-10 week range.
It was a very successful week at Meeting on the Mesa. Our Life Sciences team here at Savillex is available and happy to help. We provide clean, innovative solutions that are trusted for the most challenging life science and technology applications.
Savillex Support
Savillex's presence at both local tradeshows and industry/international tradeshows proves our commitment to learning and servicing the Biopharma and CGT communities. So please reach out directly if you have something to discuss further!
Savillex can help alleviate your extreme process parameter product needs and supply you with single-use bottles, vials, jars, assemblies, or a custom solution manufactured in Eden Prairie, MN. In addition, we have a brand new 1,300 square ft cleanroom dedicated to single-use integration services, including tubing sets and assemblies. See our Savillex website for more information, or contact us at [email protected]. We would be happy to discuss how we can supply high-quality products to meet your exact requirements.
We look forward to seeing you at upcoming industry shows such as Bioproduction, Phacilitate, Interphex, and others. Also, check our website for more information about where Savillex products can be seen and speak to experts in fluoropolymer product solutions for CGT and Bioprocessing, like our line of Purillex® Bottles, Vials, and Jars.