Is there a better solution for light-sensitive biologics?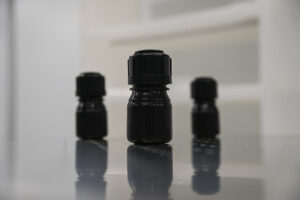 Although all biologics are light sensitive to some degree, the lipids and proteins within these biologics can be particularly susceptible to UV degradation and denaturing. 
For the most part, amber borosilicate glass bottles have been used to store light-sensitive biologics. But there are significant risks associated with glass, including breakage and loss of closure integrity during shipment and storage. Worse yet – amber borosilicate glass bottles contain high trace metals, and biologics can easily stick to the bottle material.
Moving beyond amber borosilicate glass
Purillex® fluoropolymer bottles are an excellent replacement for glass as they are virtually indestructible and feature superior closure designs that ensure a better seal and better protection of contents. Other benefits include extremely low chemical extractables and trace metals, as well as non-stick materials. 
Fluoropolymers are also chemically inert and compatible with the strong, high concentration solvents often used in lipid solutions. For the ultimate convenience, Purillex PFA bottles are also available pre-sterilized and ready-to-use.
Our latest innovation: Black PFA bottles for UV-sensitive solutions
Savillex has created new, black Purillex PFA bottles specifically for light sensitive solution applications. 
Results from UV transmission testing shows the black Purillex bottles had 0% transmittance across the entire UV light spectrum. Amber glass bottles, on the other hand, ranged between 0.1 and 0.3% transmittance across the 200-400 nm (nanometer) range.
UV transmission results: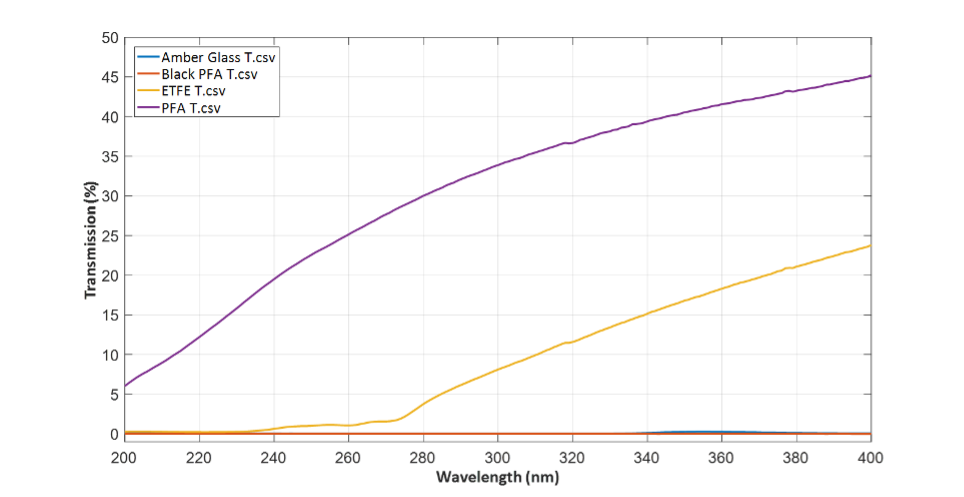 Magnification of Near 0 % Transmission: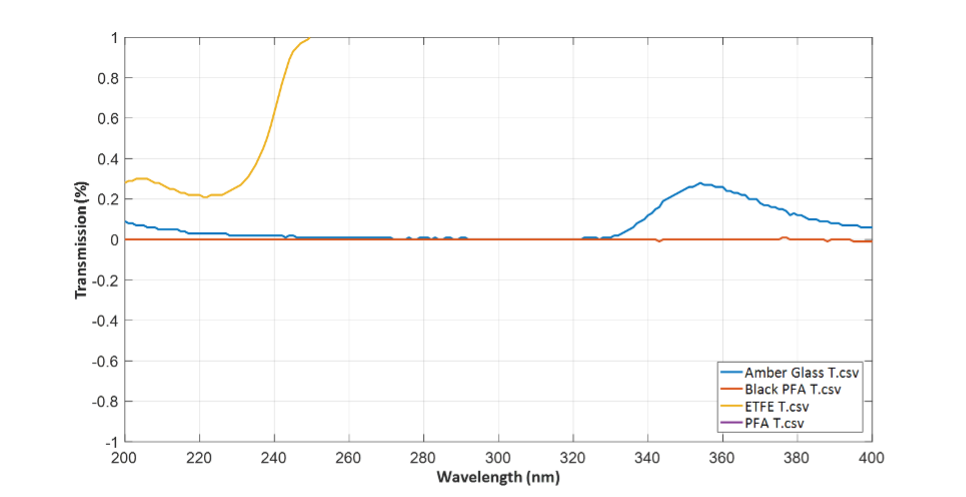 Lastly – here's a quick review of the black Purillex PFA bottles advantages over amber borosilicate glass:
Superior reduction of UV transmission

Virtually indestructible

A better seal and better protection of contents

Non-stick surface

Low chemical extractables and trace metals

Available clean, sterile and ready-to-use

Sizes from 50 mL to 2000 mL
Interested in upgrading your protection and storage of UV-sensitive solutions? Our black PFA Purillex bottles are currently available upon request, only. 
So, be sure to drop the Savillex team a line and let us know your specific needs and quantities.