By Ben Masnado, Business Development Manager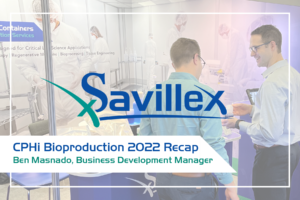 BioProduction 2022 lived up to the event's tagline: "At the heart of pharma." Located at the Messe Frankfurt in Frankfurt, Germany, this massive conference spanned eight of the Messe's twelve halls, uniting 65,000 pharmaceutical professionals worldwide.
The three-day event combined multiple pharma-related exhibitions that were once standalone conferences into one. The convergence of events led to a diverse group of attendees searching for everything from single-use technology (SUT) to automation & robotics.
The interest and adoption of single-use technologies continued to dominate the conversations at the Savillex booth. Many CDMOs and biopharmaceutical companies were looking for containment solutions for their products. A common quest among supply chain professionals was to find high-fidelity containers that could withstand any environment and shipping method. As a result, many of the discussions at our booth focused on Purillex® containers replacing single-use bags, glass bottles, and vials for bulk drug and lipids storage.
Supply chain constraints, such as raw material availability and manufacturing capacity, remained a concern for many attendees. In addition, lead times for single-use containers and components continue to impact scale-up and time to market strategies. As a result, finding second or even third sources is increasingly important for even the leanest organizations.
BioProduction 2022 was truly the global crossroads for everything pharma. The Savillex Life Sciences team was thrilled to wrap up our 2022 trade show schedule by spending the week with our customers, distributors, and experts from around the industry. Look for Savillex at the Advanced Therapies Week – Phacilitate in Miami, FL, January 17th – 20th, 2023.