By Eric Schultz – Tooling Project Manager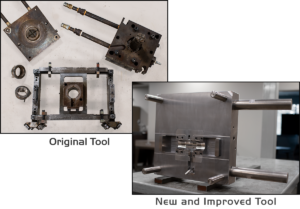 It's time you knew more about our custom tooling capabilities at Savillex. After all – they're a big part of what allows us to create completely unique, injection-molded fluoropolymer solutions for our customers.
PFA is one of the toughest polymers to mold – demanding both highly specialized tools and a great deal of expertise. What makes Savillex unique is that we design and manufacture just about all our custom molding tools in-house. Why? Because it helps us deliver shorter turnaround times for our customers, in addition to greater flexibility and complete quality control.
So, how long does it actually take to create custom tooling? Generally, the timeline is between six and 12 weeks – from when we get the purchase order to a final, finished product. During that time, we work side-by-side with customers on everything from recommending a resin grade, to the actual tooling, and molded part design.
Of course, no two tools are the same. Every tool we create is built according to customer needs – and budgets. For example, for short-run products with low part volumes, we might use a MUD (master unit die) tool with custom inserts to reduce tooling cost, while more intricate parts with higher volumes would require a new, standalone tool. We also consider all aspects of molded part design, including wall thicknesses, tolerances, and cavities.
Is Custom Molding Cost-Effective?
One of the main misconceptions around custom tooling is that the upfront costs can be prohibitive, although the expense mainly depends on how many parts are required.
If a customer only needs lower part volumes, then a standalone custom tool may not be the appropriate solution. Instead – we can mold their part to a "near-net" shape and then finish it by machining. On the other hand, when higher part volumes are required, a standalone tool tends to deliver the most value.
We have been able to come up with a molded solution for a part that was previously machined from rod stock – and significantly lowered our customers' per-part costs. So yes – there is an initial upfront cost to create custom tooling. But with larger part volumes and material savings, custom tooling can bring big value quickly.
Tooling Maintenance and Revisions
Not only do we offer in-house tool design and building, but we also provide tool maintenance and revisions. On the maintenance front, we use ultrasonic cleaning techniques for all tooling components to remove any plastic residue that may have built up from the molding process. This cleaning is performed after a production run before the mold is placed into storage.
When customers require a revision, one of our engineering experts works directly with you to make the necessary changes and modifications to fit your needs. Our customers then benefit from far shorter lead times. Simple revisions can be made in a matter of days versus the weeks it would take to go to an outside vendor.
Tool Transfers
Savillex is open to transferring tools. After receiving a tool, a full inspection and evaluation will be done, and any upgrades or recommendations will be shared with the customer. This ensures a trouble-free operation while at our facility and also gives the customer some insight into the condition of their tooling.
Interested in taking the next step with our custom tooling capabilities, or have a unique product or challenge in mind? Drop our team a line or check out our full suite of Custom Services for more details.